Purgatory Hill CDs are currently out-of-print, but downloads are available
HERE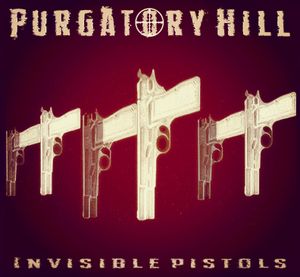 "FANTASTICALLY TWISTED... GORGEOUSLY DARK... A HARSH YET BEAUTIFUL MAIN-LINE INJECTION FROM THE DARKEST SIDE OF THE BLUES AS IT EXISTS TODAY"
-Steve Sharp,
Living Blues Magazine


"A SHOCKING REINVENTION OF BLUES AND ROCK MUSIC"
-Martin Jack Rosenblum
, 
Shepherd Express

"

HELLFIRE PHILOSOPHY AND MERCILESS RHYTHMS

... LEADS US WILLINGLY TO THE PLACE WHERE NO ONE GETS OUT UNSCATHED."
-Margaret Moser, 

Austin Chronicle  

"DARK AND DIRTY... ALL THAT IS SWAMP, GUTS, AND GLORY"
-
Lane Klozier,
Maximum I
nk

"HAUNTING AND FLUID...THEIR BLUES HAS THE DEVIL IN IT,
SOMETHING YOU HAVE TO LOOK HARD TO FIND NOWADAYS."
-

Bao Le-Huu,

 
Orlando Weekly 
"SERIOUSLY SWAMPY AND ELECTRIFYING RIFFS, ARMED WITH NUTS-AND-BOLTS INSTRUMENTATION PERFECT FOR ITS STRIPPED-DOWN, AMPED-UP APPROACH TO ALT-BLUES"
 - The Onion

"MONUMENTAL...
SIN AND REDEMPTION IN ALL 13 TRACKS... ADDICTIVELY RHYTHMIC... ABSOLUTELY PERFECT!"
-TJ Dewey,
GBNightlife
.com

"THE MISSING LINK BETWEEN 'LOW ROCK' PIONEERS, MORPHINE, AND GOTH-FOLK ICONS, 16 HORSEPOWER"
-Shane Speal,
CigarboxNation
.com

"SLINKY, GROOVY, BLOOZY, BOOZY, DIRTY, SWAMPY, SEXY, DANGEROUS, WIPE-THAT-DROOL-OFF YOUR MOUTH, SON, HOWL-AT-THE-MOON MUSIC"
-Paddy Fineran,
Kenosha News

"AN ADMIRABLE TESTAMENT TO A LITTLE MUSICAL TRUTH GOING A LONG WAY"
-Brady Bell,
Detroit Metro Times